The Abercromby Gold Project is located in the world-class Wiluna Gold District of Western Australia – one of Australia's most productive gold-producing regions (+40Moz), and second only to Kalgoorlie globally in terms of production.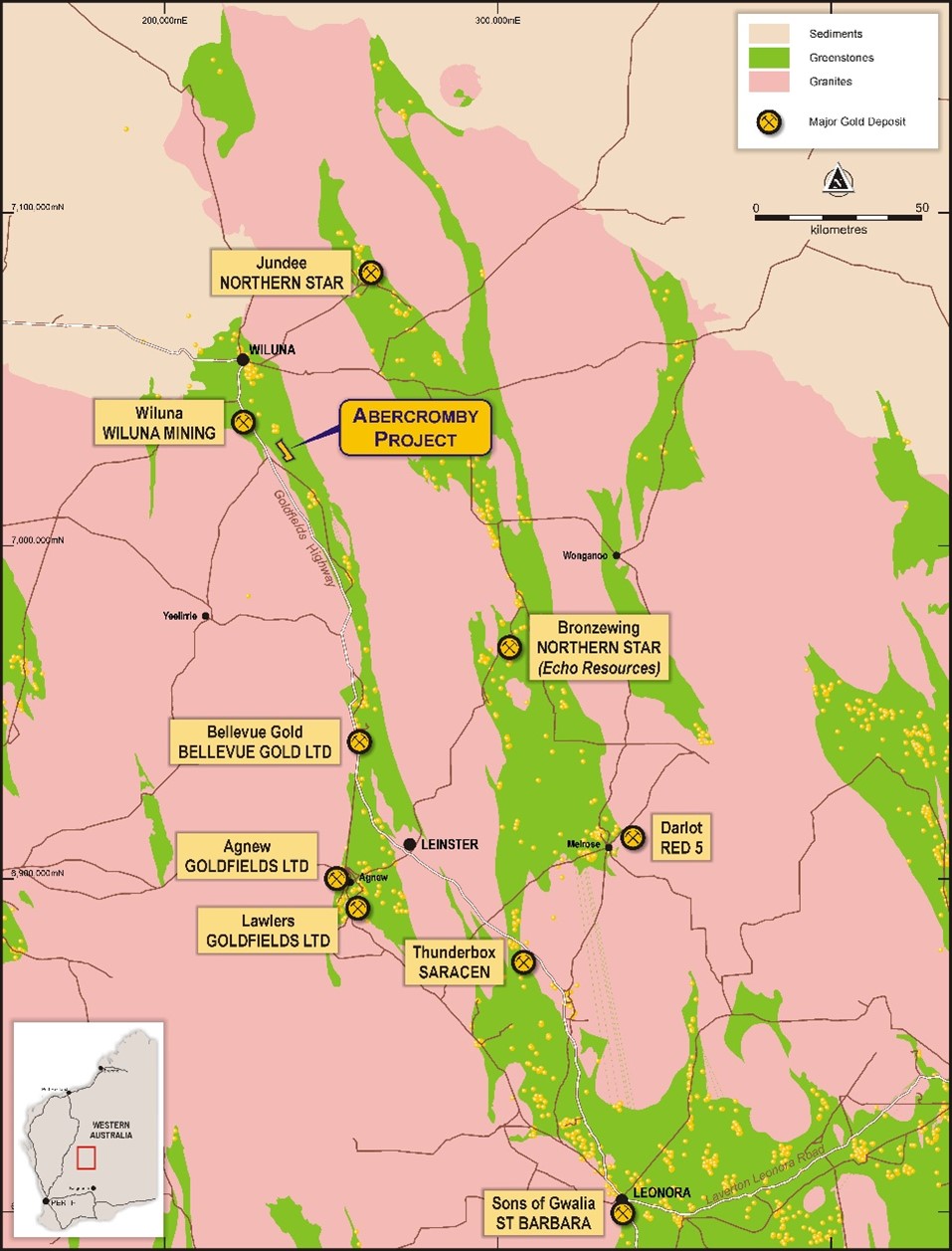 Abercromby Project Location, Wiluna District, Western Australia
BMG is conducting the first gold drilling campaigns in more than 15 years at the project, which had sat idle in the portfolio of a base metals major. Historic drilling had already confirmed multiple high grade gold intersections at the Capital Prospect including:
57.5m @ 5.73 g/tAu from 80m
30m @10.01 g/tfrom 164m
36m @ 4.33 g/tfrom 100m
BMG's initial drilling campaign at the Capital Prospect confirmed gold mineralisation across broad zones, and down-dip continuity that remains open. Abercromby has two confirmed broad gold lodes, being the Western and Eastern lodes within the Capital Prospect which have not been fully tested, providing scope for further drilling to greatly expand the areas of mineralisation and therefore the potential contained ounces.
Mineralisation in these gold zones is interpreted to be open in all directions with potential extensions to the north and at depth being of priority interest.
BMG's interpretation of mineralisation at the Capital Prospect is there are a number of northwest trending mineralised shear zones (lodes) that contain internal high-grade, plunging gold shoots.
A total of 13 holes were drilled in the maiden drill campaign, with results including:
26m @ 6.07 g/t Au from 192m, including 7m @ 21.22 g/t Au from 192m (20ABRC0004)
16m @ 3.64 g/t Aufrom 82m, including 3m @ 14.38 g/t Au from 83m (20ABRC0004)
33m @ 1.7 g/t Aufrom 127m, including 3m @ 15.29 g/t Au from 157m (20ABRC0008)
37m @ 2.58 g/t Aufrom 144m including 8m @ 8.1 g/t Au from 173m (20ABRC0010)
5m @ 5.86 g/t Aufrom 42m including 2m @ 10.83 g/t Au from 42m (20ABRC0010)
8m @ 2.72 g/t Aufrom 32m and 2m @ 4.37 g/t Au from 107m (20ABRCD0003)
59m @ 0.86 g/tAu from 156m, including 7m @ 3.33 g/t Au from 173m (20ABRC0006)
2.7m @ 6.54 g/t Aufrom 215.3m (20ABRCD0003)
12m @ 2.56 g/t Aufrom 25m including 2m @ 4.87 g/t Au from 25m (20ABRC0001)
The combined footprint of the Capital and Capital North prospects at Abercromby is approximately 1,000m x 300m, supporting the potential for further drilling to establish a very significant resource envelope.
The Archer and Barrack prospects are located approximately 4km south of the Capital prospect. Both have historical intersections of high-grade gold but have not been followed up to-date.
A 2021 major drill program is focussing on resource step-outs, extension holes and infill drilling to further scope the gold endowment at Abercromby.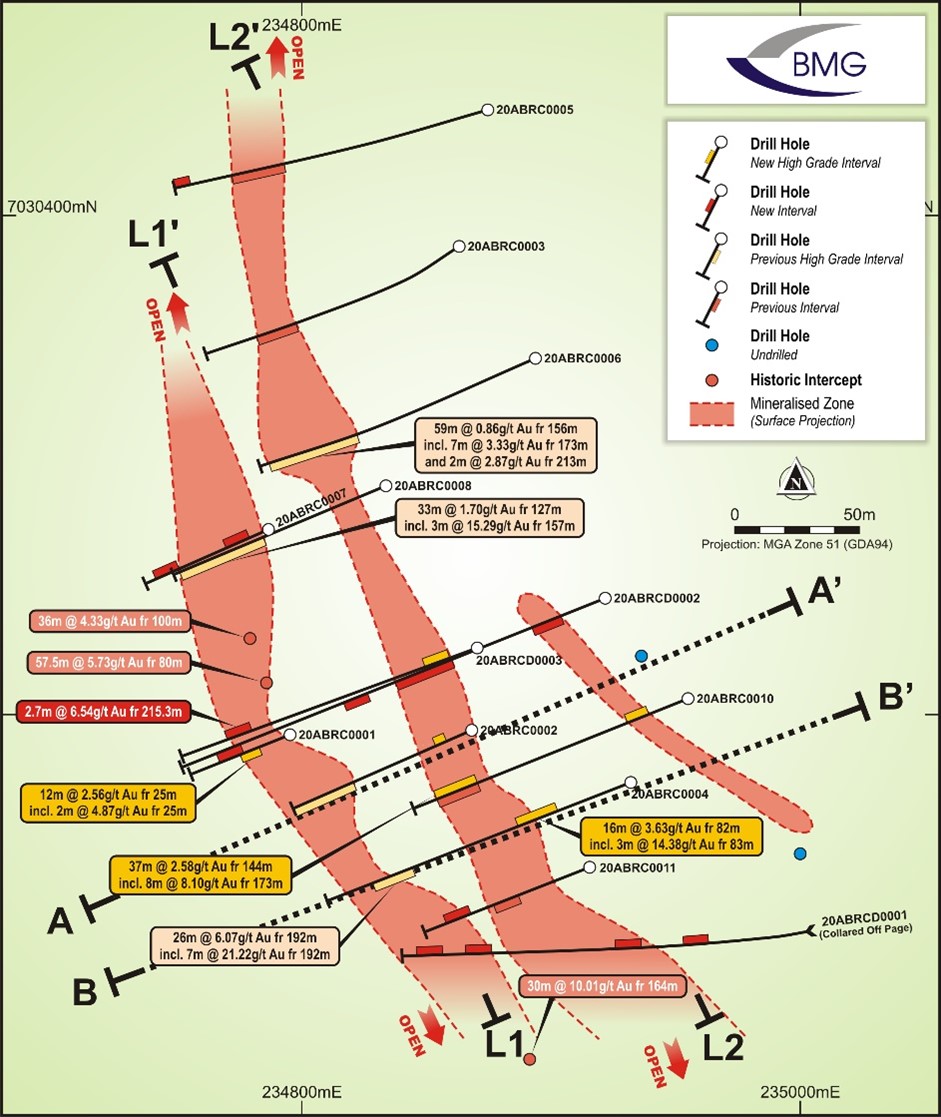 Plan view of maiden BMG drilling, together with the position of reported intercepts.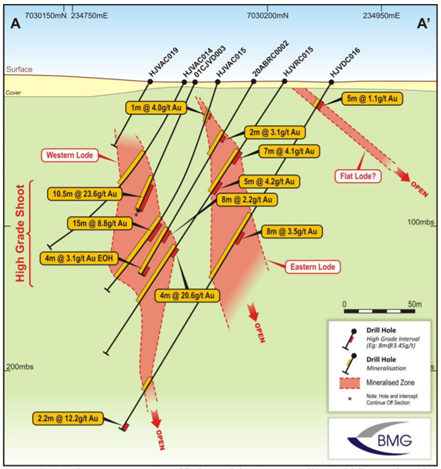 Capital Prospect cross section A-A' (looking NW) showing recent and historical drilling together with interpreted mineralised zones and selected internal high-grade intersections.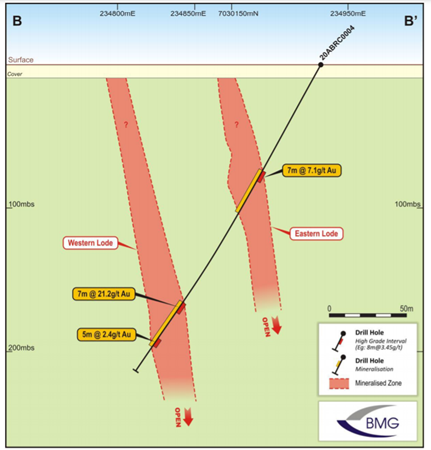 Capital Prospect cross section B-B' (looking NW) showing the results of BMG drilling with interpreted mineralised zones and selected internal high-grade intersections. ABRC0004 drilled between previously drilled traverses that were some 50m apart.