The Abercromby Gold Project is located in the world-class Wiluna Gold District of Western Australia – one of Australia's most productive gold-producing regions (+40Moz), and second only to Kalgoorlie globally in terms of production.
Abercromby sat dormant in the portfolio of a base metals company while gold majors developed the gold mines that now hem it. Prior to BMG, the last drilling for gold took place in the early 2000s. BMG's maiden drilling program in December 2020 represented the first drilling campaign at Abercromby in more than 15 years.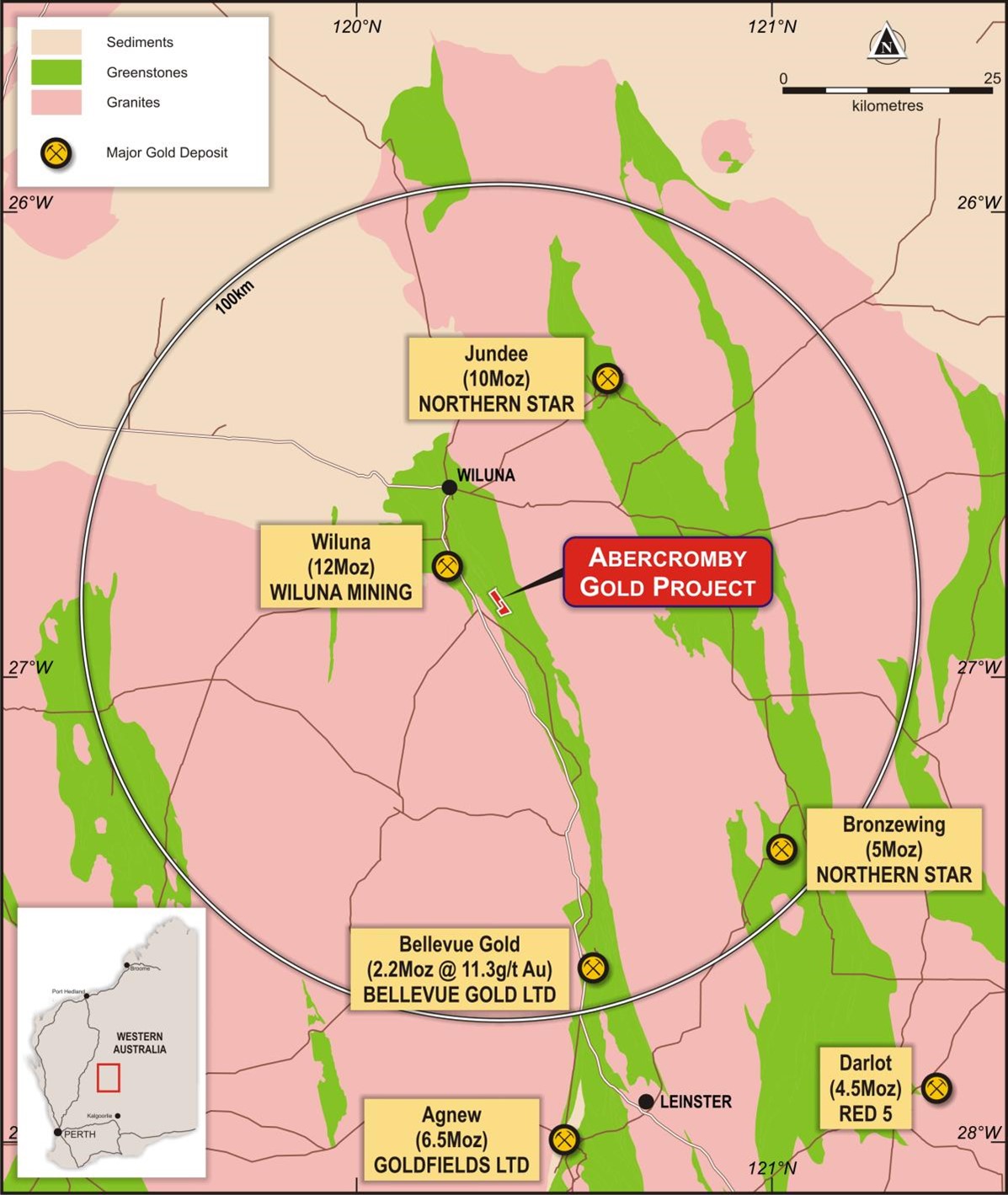 Through systematic exploration, BMG has uncovered an extensive mineralised system with numerous high-grade intersections at the Capital Prospect. The known strike exceeds 1.5km, and mineralisation remains open in all directions with potential to add significant ounces. Diamond drilling in 2022 has more than doubled the mineralised envelope, and substantially enhanced the resource potential.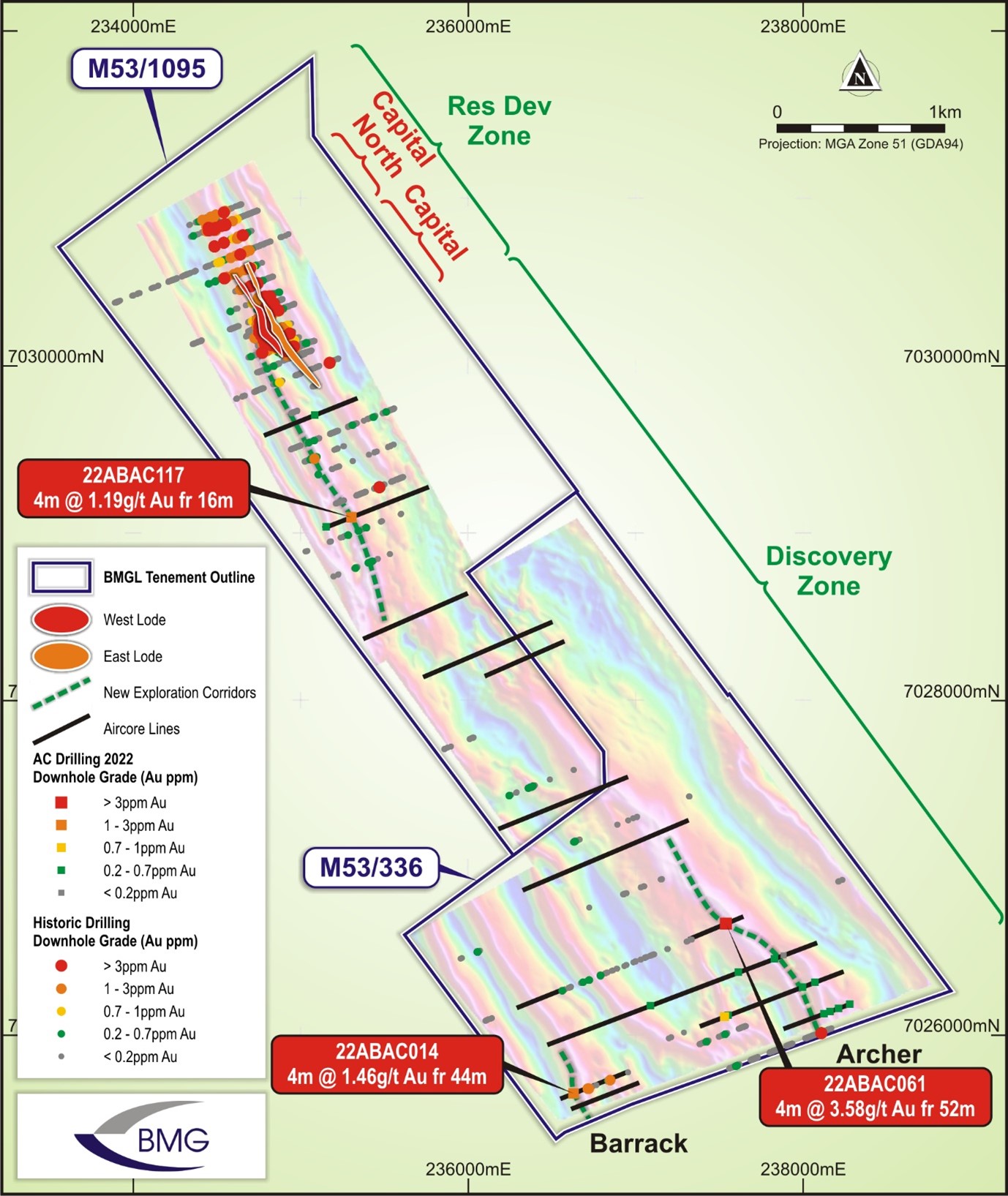 The company has a two-pronged exploration strategy at Abercromby, with reverse circulation (RC) and diamond drilling at the highly prospective Capital Deposit, and a regional aircore program to grow the pipeline of exciting greenfields targets for follow-up drilling.
Capital Prospect
Drilling at the Capital Prospect has largely been focussed with the southern portion of the area, where two broadly-defined steeply north-east dipping mineralised lodes, the West and East lodes have been identified. Diamond drilling has confirmed depth continuation to at least 400mbs and mineralisation to >500mbs, and there are indications of further mineralised zones in the Capital area both to the east and west of the main zones. Mineralisation remains open at depth and along strike.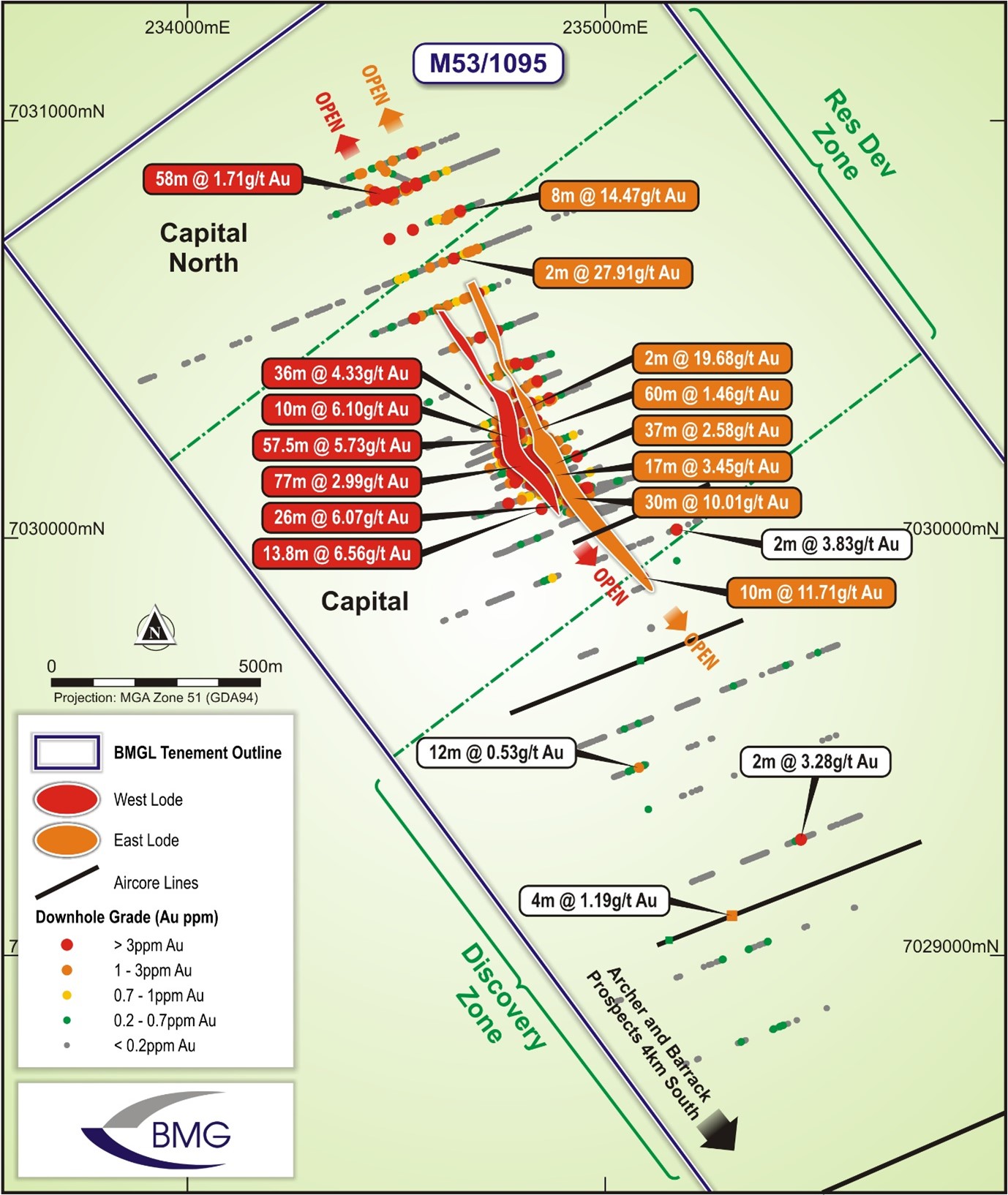 BMG's commenced its maiden program at the Capital Prospect late in 2020. The program confirmed gold mineralisation across broad zones, and down-dip continuity that remained open. It identified and confirmed two broad gold lodes within the Capital Prospect – the West and East lodes. Mineralisation in these gold zones was interpreted to be open in all directions with potential extensions to the north and at depth being of priority interest.
Results from drilling campaigns have included:
57.5m @ 5.73g/t Au from 80m
30m @ 10.01g/t Au from 164m
26m @ 6.07g/t Au from 192m
36m @ 4.33g/t Au from 100m
16m @ 3.64g/t Au from 82m
37m @ 2.58 g/t Au from 144m
Following the maiden campaign, the Company conducted a sub-audio magnetic survey of the project area and, in July 2021 commenced a major 6,000m drilling program focussed on extension hole and infill drilling at the Capital Prospect, as well as initial testing of targets identified in the geophysical survey.
The campaign continued into the new year and, in January 2022, 1m RC results returned a number of very wide intercepts, punctuated by very high-grade gold including:
6m @ 19.8g/t from 83m (21ABRC007), incl 1m @ 100.39g/t from 83m
34m @ 1.26g/t Au from 143m (21ABRC007)
5m @ 3.97g/t Au from 238m (21ABRC007)
60m @ 1.46g/t Au from 127m (21ABRC005), incl 19m @ 2.87g/t from 159m
50m @ 1.08g/t Au from 101m (21ABRC003), incl 4m @ 8.61g/t from 123m
33m @ 1.38g/t Au from 233m (21ABRC004), incl 12m @ 2.47g/t from 250m
35m @ 1.07g/t Au from 19m (21ABRC019), incl 13m @ 1.98g/t from 39m
2m @ 6.47g/t from 80m (21ABRC019) o 25m @ 1.15g/t Au from 218m (21ABRC006), incl 9m @ 1.99g/t from 223m
Importantly, drilling identified a new eastern lode previously unidentified by historic drilling. This opened up the area to significant extension of the potential resource envelope while the diamond drilling component of the campaign continued.
In April 2022, the company reported that the ongoing program had more than doubled the likely size of the deposit and intersected extremely high-grade gold in fresh rock. Results from the deepest drilling of the program proved that the system was fertile at depth, and confirmed that geological and grade models had successfully targeted mineralisation at or very close to predicted locations, with extrapolation holding true at distances in excess of 250m.
Highlights from the intersections of thick, high-grade gold included:
31m @ 6.18g/t Au from 162m (20ABRC0002), and part of a broader 77m @ 2.99g/t Au from 116m
10m @ 11.71 g/t Au from 295m (21ABDD004)
13.8m @ 6.56 g/t Au from 446m (20ABRC0002)
24m @ 1.97g/t Au from 101m (21ABRC003)
39m @ 1.35 g/t Au from 205m (21ABDD001)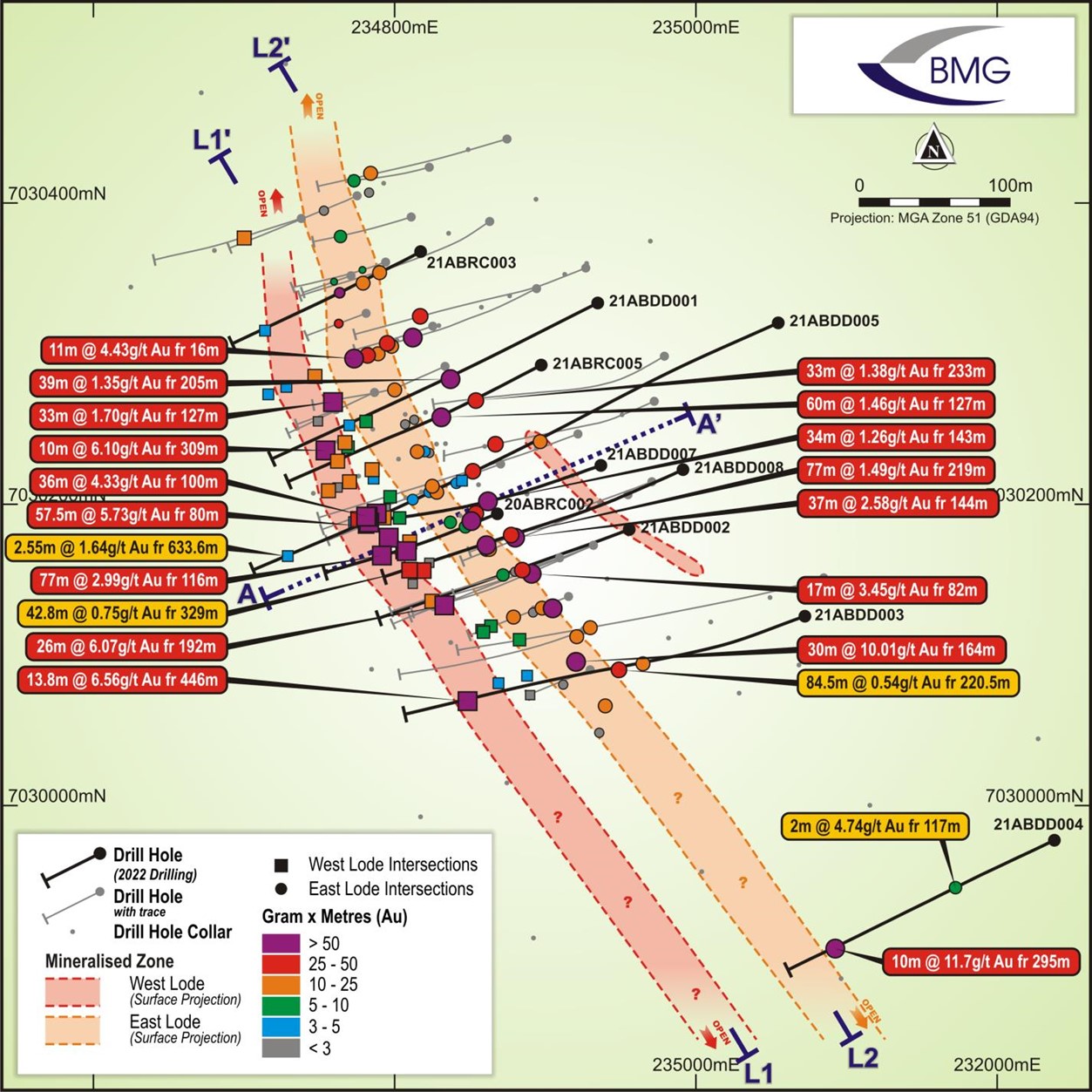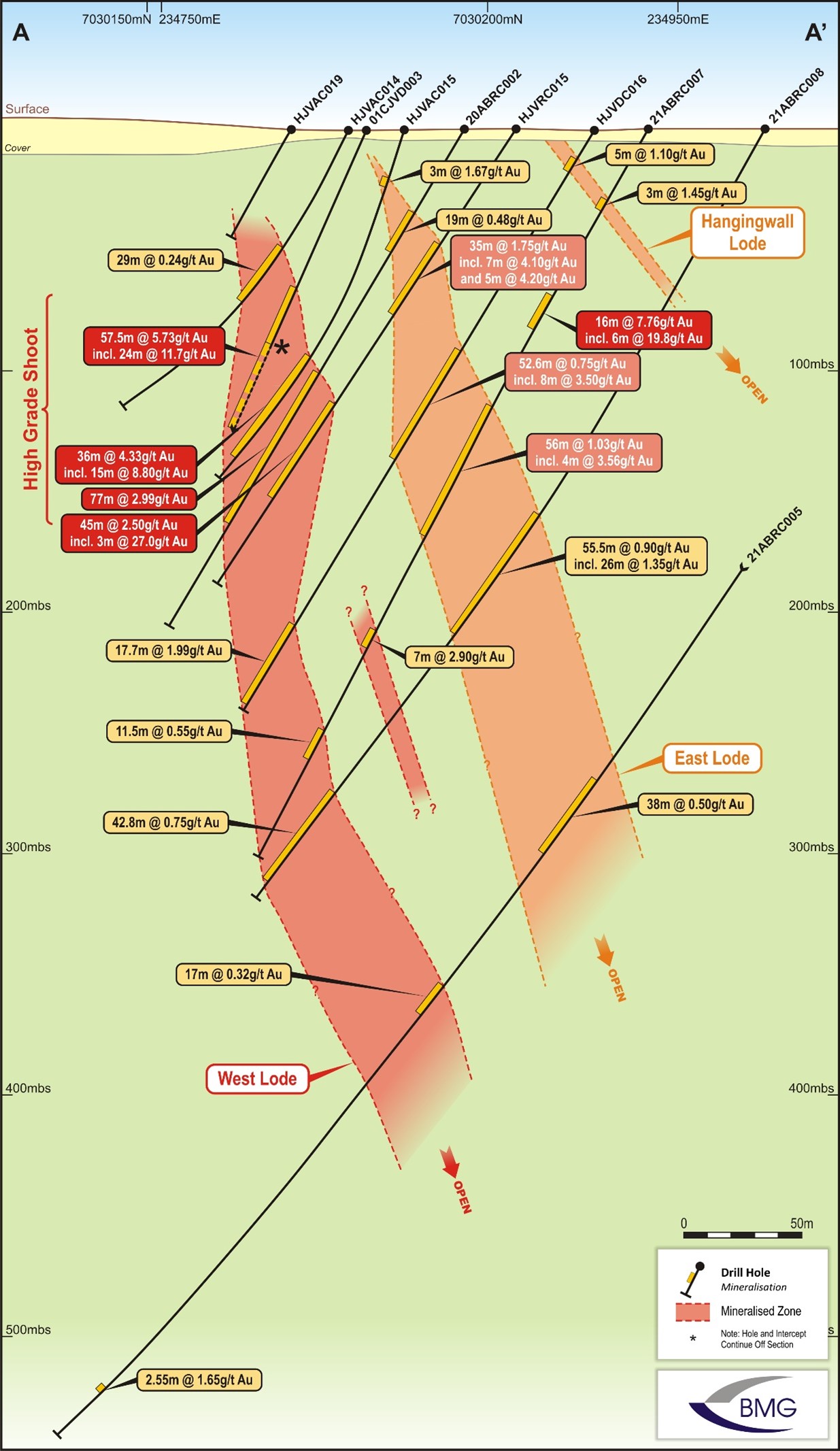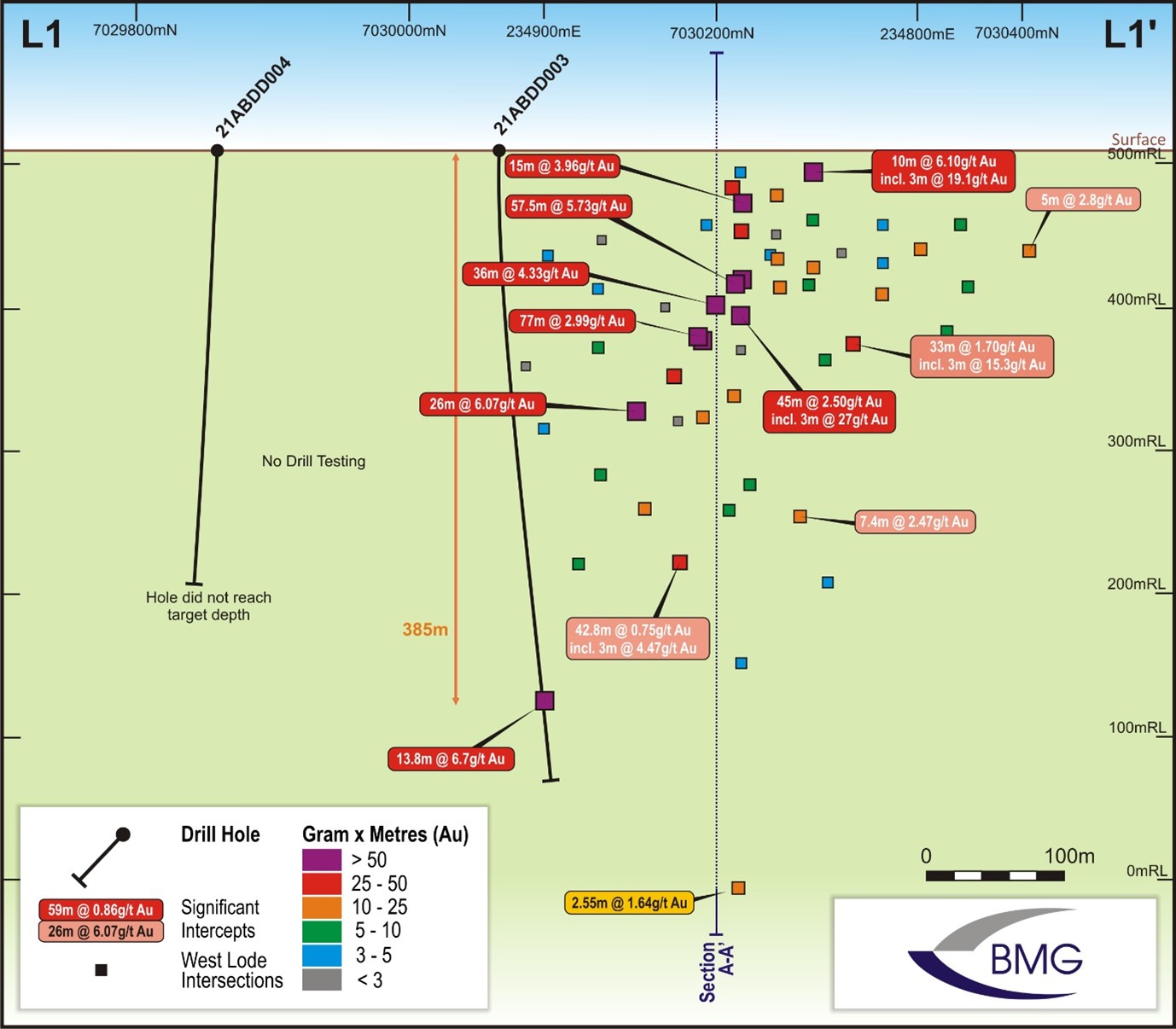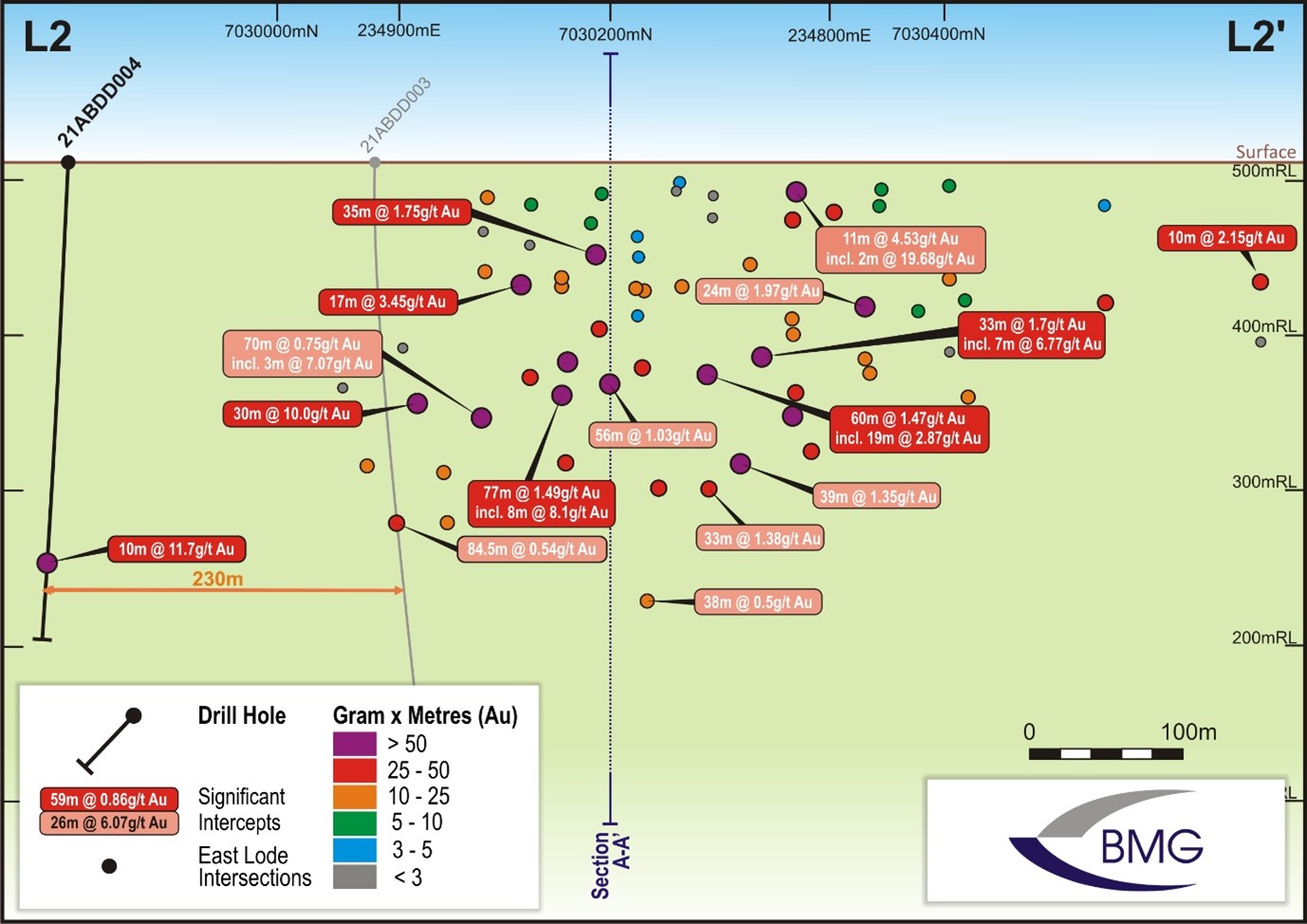 Some of the key results reported included:
Drill hole 21ABDD004, which was completed 250m south of known mineralisation at Capital and intersected 10m @ 11.71g/t Au from 295m. This demonstrated significant strike extension potential to the East Lode
Drill hole 21ABDD003 intersected 13.8m @ 6.56 g/t Au from 446m confirming a deep, southern high-grade plunge to the West Lode
Drill hole 21ABDD005, a deep hole (660m) completed under the main Capital zone, intersected 38m @ 0.5g/t Au from 309m and 2.55m @ 1.64g/t Au from 633m, confirming strong prospectivity for the broader system to continue at depth
Other assays confirmed very wide intercepts that were punctuated by very high gold grades and added to the known mineralised envelope which remains open at depth and along strike. This included 20ABDD002 which intersected 31m @ 6.16g/t Au from 162m, as part of a broader zone of 77m @ 2.99g/t Au from 116m.
The east lode has opened up an area for significant extension of the mineralised corridor, and the west lode remains to be tested. Step out drilling to the north of Capital continues to intersect gold mineralisation that could potentially increase the strike of mineralisation to more than 2km.
Regional aircore drilling
To continue the growth pipeline of greenfields exploration targets, BMG conducted a regional aircore program to the south of the Capital Prospect in order to test a number of targets generated by an SAM survey.
The first-pass of aircore drilling delineated a series of highly prospective gold anomalies, and opened up multiple target areas for more intensive exploration.
The coincidence of geochemical and geophysical indicators at these greenfields targets reinforces BMG's view of strong prospectivity within the project area and, with large untested distances either side of many of these new gold anomalies, the Company is confident that one or more Capital-style deposits could easily be hiding in close proximity.
Standout results included:
4m @ 3.58g/t Au from 52m (22ABAC061) at the Archer Prospect intersected an interpreted southern extension of the Abercromby shear, open for some 1.4km
4m @ 1.19g/t Au from 16m (22ABAC117) punctuates an emerging 1.6km target zone with direct continuity from the high-grade gold of the West Lode at Capital
4m @ 1.46g/t Au from 44m (22ABAC014) at the Barrack Prospect reinforces the potential prospectivity of the area
More that 12 other 4m intercepts > 200ppm encountered in AC drilling