The Abercromby Gold Project has a Mineral Resource of 11.1Mt @ 1.45g/t for 518Koz Auandis located in the world-class Agnew-Wiluna Greenstone Belt in Western Australia – one of Australia's most productive gold-producing regions (+40Moz), and second only to Kalgoorlie globally in terms of production.
BMG holds 100% of Abercromby, which comprises the gold and other mineral rights (ex-uranium) of two granted mining leases (M53/1095 and M53/336) – providing an expedited pathway to mining approvals.
Since acquiring the project in mid-2020, BMG has completed three reverse circulation and diamond drill programs primarily targeting the high-priority Capital Deposit, and two significant air-core drill programs across southern targets. Capital sits within the northern third of Abercromby's 12km2 project area.
BMG has completed rigorous metallurgical test work on core samples from Capital which confirmed its free-milling status and therefore amenability to conventional carbon-in-leach (CIL) processing, with high gold recoveries achieved.
The company is pursuing a dual exploration strategy at Abercromby, targeting resource growth at the Capital Prospect and regional exploration to the south of Capital to pursue further Capital-style mineralisation.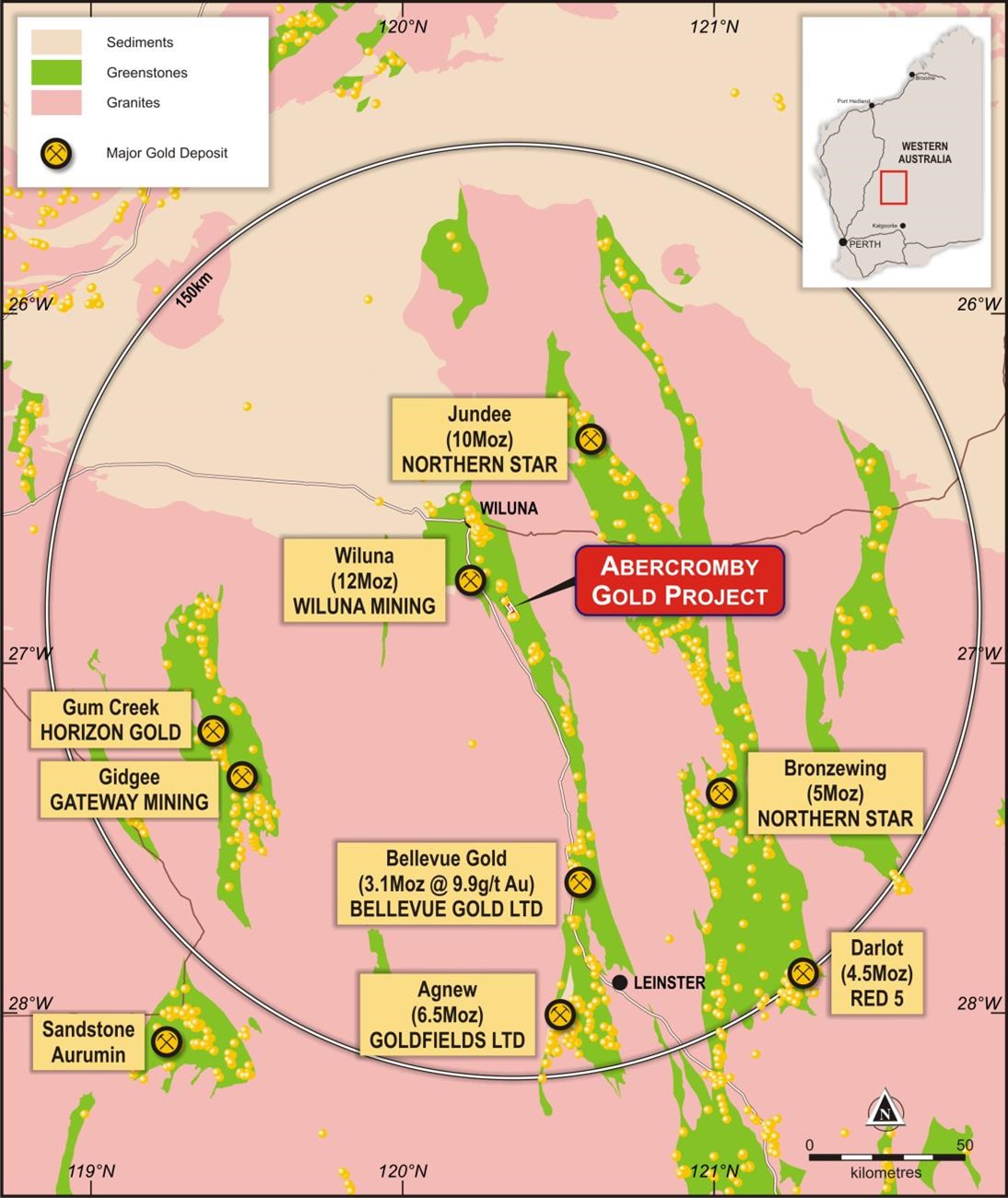 Capital Prospect
The Capital Prospect is a large mineralised system with a current strike of at least 1.3km, consisting of two primary lodes - the West and East lodes, which remain open in all directions.
In April 2023 BMG reported a maiden Mineral Resource:
Mineral Resource of 11.1Mt @ 1.45 g/t Au for 518koz Au (0.4g/t and 1.25g/t cut-offs for open pit and underground zones respectively)
Open Pit area: 354koz @ 1.17g/t Au (>0.4g/t Au between surface and 200mbs) o Underground area: 164koz @ 3.09g/t Au (>1.25g/t Au between 200 and 500mbs) o 353koz (68%) Au Indicated and 165koz (32%) Au Inferred (using resource constraint above)
173koz in oxide and transitional material, 345koz in fresh material
Higher grade component of the resource is 430koz @ 2.01g/t Au at a 1.0g/t lower cut-off
Low $8.35/oz discovery cost
The maiden Mineral Resource, combined with metallurgical work that confirmed the orebody as free milling across all zones, is a strong indicator of the potential for a straight-forward open-pit mining operation.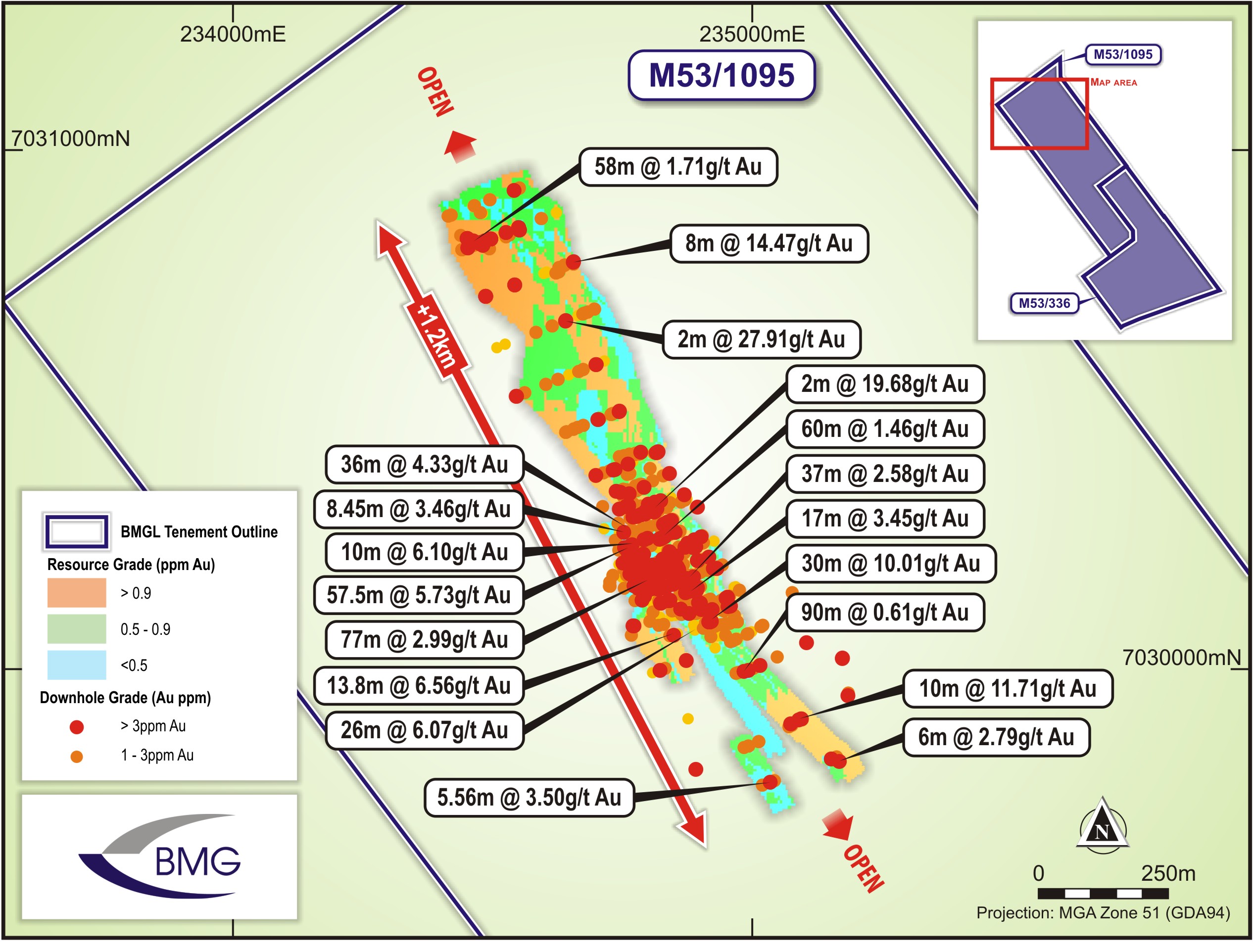 Plan view of Mineral Resource Estimate for the Capital Deposit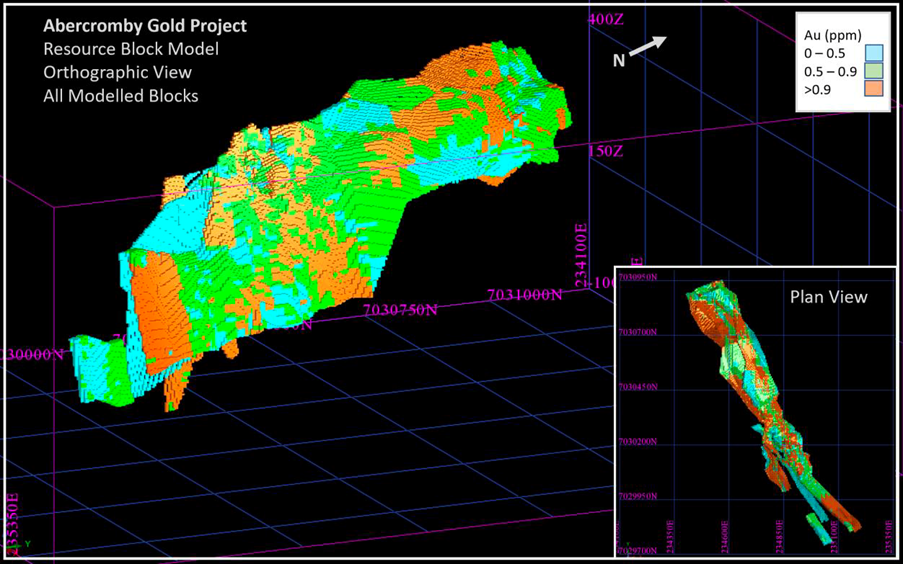 Global resource block model for Capital, coloured by grade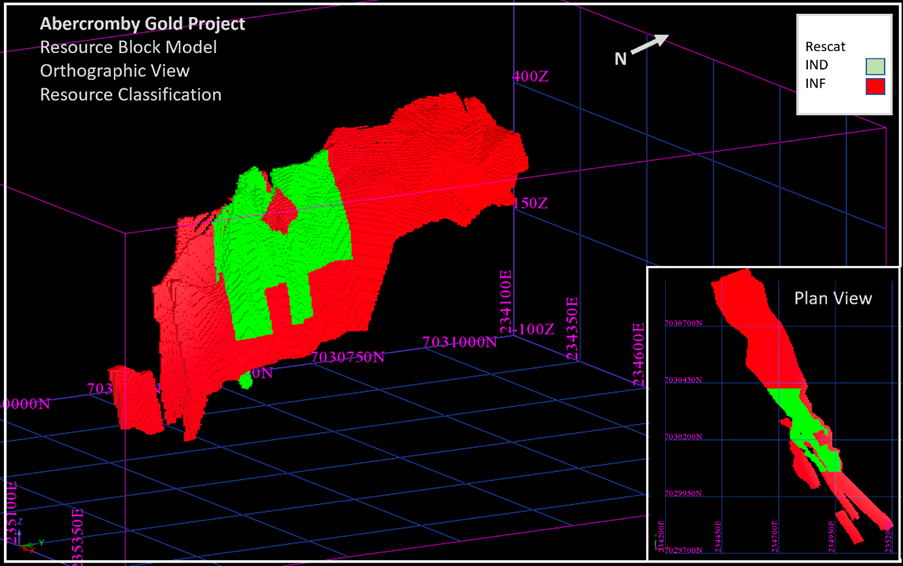 Resource classification shown in orthographic view. Note only the highest data density portions at Capital have been assigned Indicated classification

JORC-compliant Mineral Resource estimate for the Capital Deposit Abercromby Gold Project
The resource figure of 518koz is a subset of a global resource estimate containing some 670koz at a 0g/t Au lower cut-off. The quoted resource figure of 518koz Au has been delineated by reporting the resource at varying lower cut-off grades for areas nominally considered amenable to either underground or open pit mining. BMG has used a lower cut-off of 0.4g/t for the open pit area, which is between 0 and 200m below surface and a 1.25g/t lower cut-off for material between 200 and 500m below surface.
These lower cut-off selections do not reflect any type of economic analysis so far undertaken on the resource but are thresholds chosen by the Competent Person as being useful for addressing the JORC Codes' requirement for Mineral Resources to have reasonable prospects of eventual economic extraction.
Regional targets
In December 2021, BMG completed a SAM survey that identified extensive anomalous zones trending from the known gold-bearing structures at Capital into areas to the south where sparse historical drill traverses had taken place. In 2022, the Company undertook two aircore campaigns to follow up the result.
First-pass aircore drilling delineated a series of highly prospective gold anomalies and opened up multiple target areas for more intensive exploration. The second program further defined these targets, and identified the Capital South, Archer and Barrack targets as highest priority.
Capital South – 1,700m, incl. 4m @ 1.14g/t Au (22ABAC117)
Archer – 1,400m, incl. 4m @ 3.58g/t Au (22ABAC061)
Barrack – 250m+, incl 4m @ 1.46g/t Au (22ABAC014)
Extensive supergene mineralisation encountered in these areas suggest possible repetitions of the high-grade Capital deposit, with +100ppb Au signature reported immediately south of planned extensional diamond holes at Capital.
A total of 20 highly anomalous (+200ppb Au) results were encountered in 19 separate holes (refer to Table 1 below), providing compelling impetus for BMG to expand its work program at Abercromby to include these greenfield areas.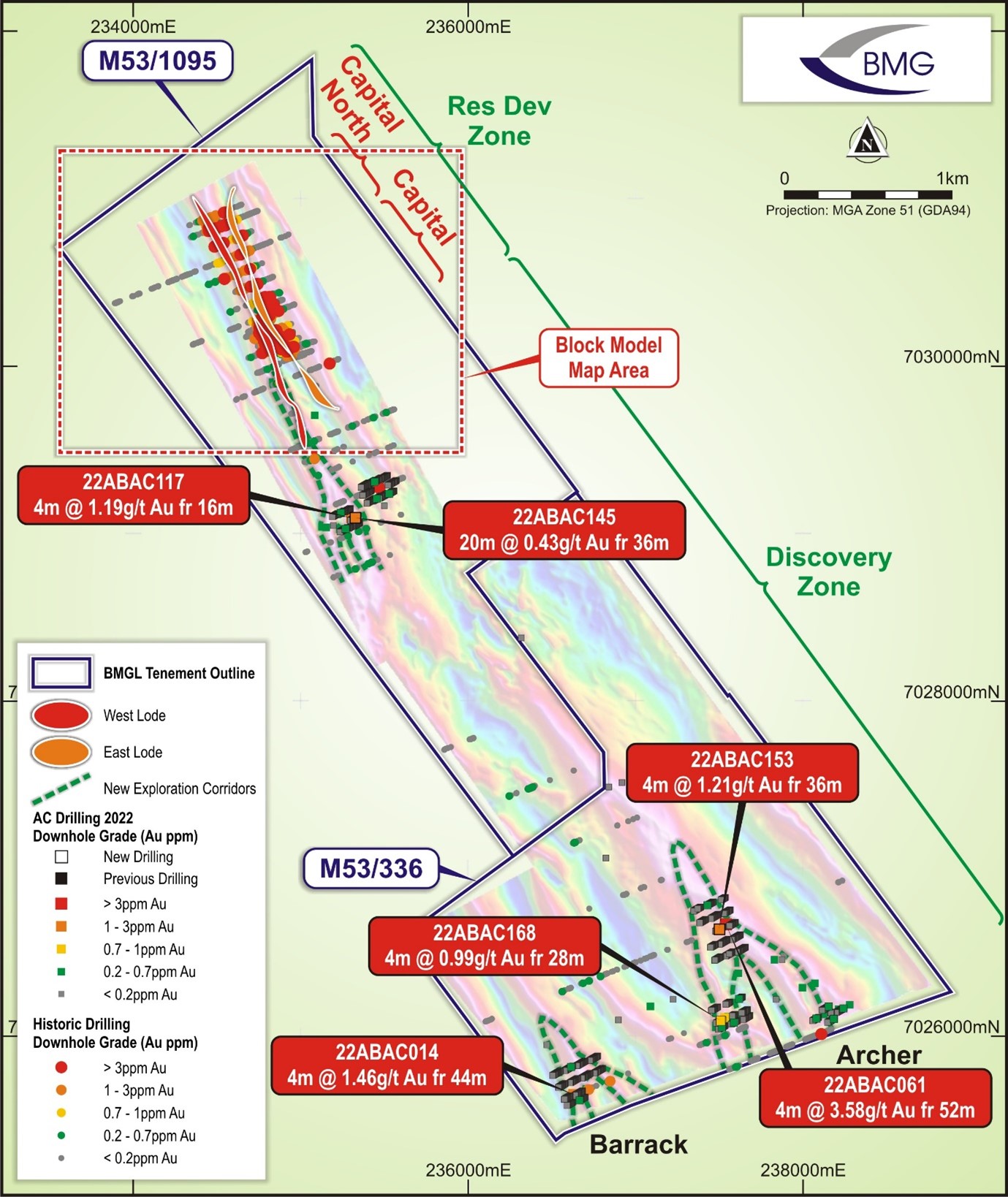 Abercromby project area with SAM survey tilt derivative conductivity image showing aircore results (squares with significant intercepts highlighted) along with pre-existing results (circles)