The Abercromby Project is located in the Wiluna district, one of Western Australia's most significant gold producing regions with a gold endowment (+40Moz Au) which is second only to Kalgoorlie globally in terms of historic production.
Abercromby is proximal to operating plants at Wiluna (Wiluna Mining Limited ASX: WMX) and Jundee (Northern Star Resource Limited ASX: NST). It is located in a particularly exciting gold region which has witnessed much activity recently with the Northern Star acquisition of Echo Resources for $242m in 2019 and Bellevue Gold ASX: BGL continues to increase its high-grade resource.
Abercromby boasts multiple historic thick high-grade gold intersections including:
· 57.5m @ 5.73g/t Au from 80m
· 58m @ 1.17g/t Au from 77m
· 30m @ 10.01g/t Au from 164m
· 36m @ 4.33g/t Au from 100m
Abercromby has remained relatively underexplored and undeveloped for over 20 years, having sat idle in the portfolio of a base metal major. BMG believes that further drilling at Abercromby presents an outstanding opportunity to potentially delineate a high-grade resource and to make additional gold discoveries.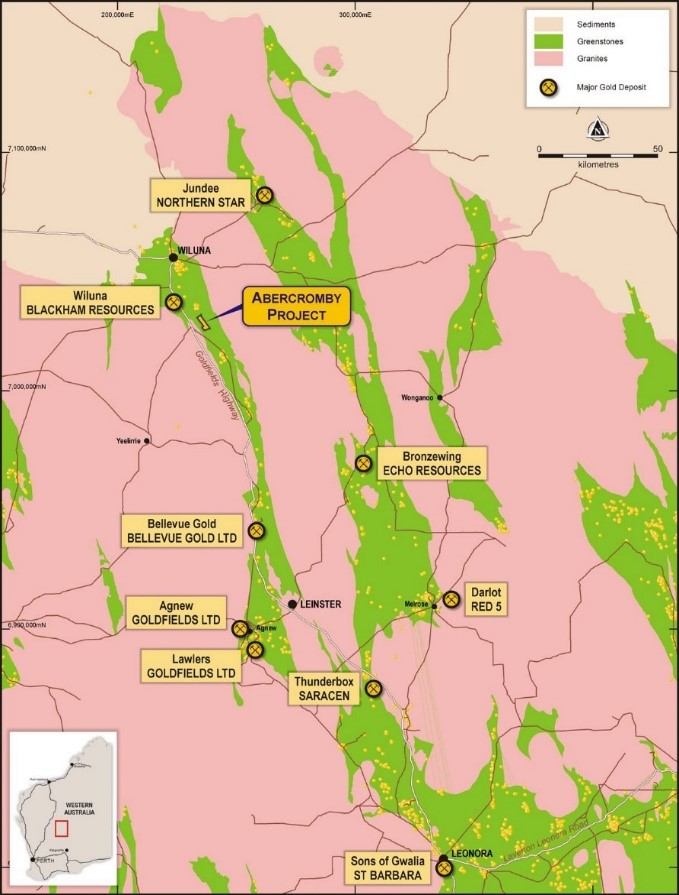 Location of Abercromby Gold Project, Wiluna